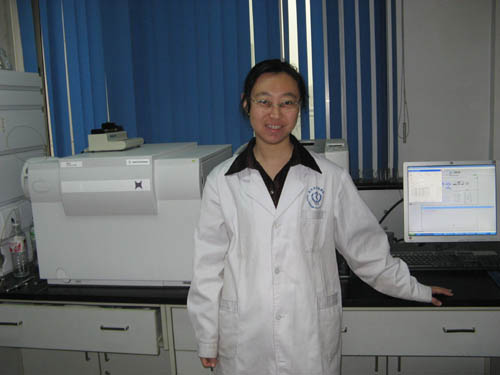 姓名 赵明波

职称 讲师

出生年月 1977年8月
学位 理学硕士
电话 010-82802859
Email zmb@bjmu.edu.cn

近5年主要教学内容:

1. 天然药物化学

2. 天然药物化学实验
发表教学论文

1.赵明波,梁鸿,张庆英,郭晓宇,刘桦,屠鹏飞. 天然药物化学设计性实验教学探索,中华医学教育杂志,2009,29(5): 125-126.

获得的教学表彰/奖励

1. 2005年北京大学医学部优秀教学集体奖

2. 2009年北京大学医学部药学院青年教师讲课比赛一等奖

3. 2010年北京大学医学部青年教师讲课比赛三等奖

近年发表的代表性论文

1. Fu Qiang, Zan Ke, Zhao MingBo, et al. (2010): Trierpene saponins from Clematis chinensis and Their Potential Anti-inflammatory Acivity. Journal of Natural Products, 73 (7): 1234-1239.

2. Jia CunQin, Shi HaiMing, Jin Wei, Zhang Ke, Jiang Yong, Zhao MingBo, Tu PengFei. (2009): Metabolism of Echinacoside, a Good Antioxidant, in Rats: Isolation and Identification of Its Biliary Metabolites. Drug Metabolism and Disposition, 37 (2): 431-438.
3. Zhao, M.B., Jiang, Y., Zhang, H.Q. and Tu, P.F.(2008): Purification of total flavonoid glycosides from Hypericum perforatum by macroporous adsorption resin with on line detection system. Chin. J Chin. Mat. Med. 33: 769 - 771
4. Dong, C.X., Shi, S.P., Zhao, M.B. and Tu, P.F.(2008): A New Glucopyranosyl Naphthalene from Clematis hexapetala Pall. Chin. J Nat. Med. 6: 23-25
5. Liu, L., Li, A.L., Zhao, M.B. and Tu, P.F.(2007): Tetralones and Flavonoids from Pyrola calliantha Chemistry & Biodiversity 4: 2932-2937
6. Shi, S.P., Jiang, D., Zhao, M.B. and Tu, P.F.(2007): Preparative isolation and purification of triterpene saponins from Clematis mandshurica by high-speed counter-current chromatography coupled with evaporative light scattering detection. J. Chrom. B 852: 679 – 683
7. Zhao, M.B., Ito, Y. and Tu, P.F.(2005) : Isolation of a novel flavanone 6-glucoside from the flowers of Carthamus tinctorium (Honghua) by high-speed counter-current chromatography. J. Chrom. A 1090: 193- 196
8. Zhao, M.B., Deng, X.L., Wang, Y.L., Lu, Min. and Tu, P.F.(2004): Establishment of chromatographic fingerprint and quality assessment of Carthamus tinctorius L.by high performance liquid chromatography. Acta Pharm. Sinica 39: 212-216
9. Zhao, M.B., Deng, X.L., Wang, Y.L. and Tu, P.F.(2003): Determination of Hydroxy Safflower Yellow A in Carthamus tinctorius L.by High Performance Liquid Chromatography. Chin. J Chrom. 21: 593 – 595