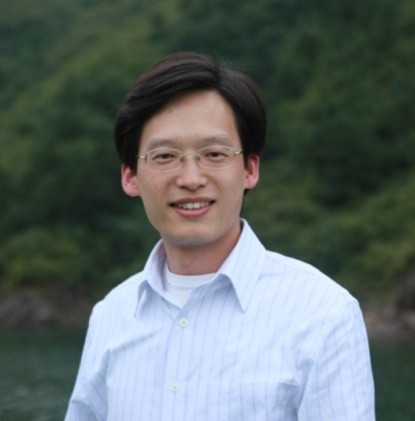 叶敏,博士,教授
  办公电话:010-82802024
  电子邮箱:yemin@bjmu.edu.cn
  课题组主页 http://sklnbd.bjmu.edu.cn/k/e/action/ListInfo/?classid=41
个人简历
  1975年11月出生于湖北黄冈
  1993/09-1997/07,北京中医药大学,中药学院,学士。
  1997/09-2000/07,北京中医药大学,中药学院,硕士。
  2000/09-2003/07,北京大学,药学院天然药物学系,博士。
  2003/07-2005/05,北京大学,药学院天然药物学系,博士后。
  2005/05-2006/01,美国Louisiana State University,生物学系,博士后。
2006/01-2007/12,美国Yale University,医学院药理学系,博士后。
2007/12-2012/07,北京大学,药学院天然药物学系,副教授。
2012/08至今,北京大学,药学院天然药物学系,教授。
研究领域
  1. 活性天然产物的生物合成与生物催化
  2. 中药药效成分发现与中药分析
科研项目
  1. 国家自然科学基金重大项目,81891011,2019/01-2023/12,课题负责人。
  2. 国家杰出青年科学基金项目,81725023,2018/01-2022/12,主持。
  3. 国家重点研发计划,2017YFC1700405,2018/01-2021/12,课题负责人。
  4. 国家自然科学基金面上项目,81470172,2015/01-2018/12,主持。
  5. 国家自然科学基金优秀青年科学基金项目,81222054,2013/01-2015/12,主持。
  6. 国家自然科学基金面上项目,81173644,2012/01-2015/12,主持。
奖励与学术职务
  2019年入选国家"万人计划"科技创新领军人才。
  2016年国家科技进步二等奖,第五完成人。
2015年国家科技部-盖茨基金会,大挑战2015 青年科学家奖。
2012年国家自然科学二等奖,第二完成人。
2011年北京青年科技奖。
  2011年入选教育部新世纪优秀人才支持计划。
  2009年入选北京市科技新星计划。
  2007年教育部自然科学一等奖,第二完成人。 2005年教育部自然科学一等奖,第三完成人。
  目前担任第十一届国家药典委员会委员, Journal of Ethnopharmacology 、 Pharmaceutical Biology 等杂志副主编, Journal of Pharmaceutical and Biomedical Analysis 杂志顾问编委,《药学学报》等杂志编委。
代表论文
1. Jun-Bin He#, Peng Zhao#, Zhi-Min Hu, Shuang Liu, Yi Kuang, Meng Zhang, Bin Li, Cai-Hong Yun*, Xue Qiao*, Min Ye*. Molecular characterization and structural basis of a promiscuous C -glycosyltransferase from Trollius chinensis . Angew. Chem. Int. Ed. 2019, 58, 11513-11520.
2. Kuan Chen, Zhimin Hu, Wei Song, Zi-long Wang, Jun-bin He, Xiao-meng Shi, Qing-hua Cui, Xue Qiao*, Min Ye*. Diversity of O -glycosyltransferases contributes to the biosynthesis of flavonoid and triterpenoid glycosides in Glycyrrhiza uralensis . ACS Synth. Biol. 2019, DOI: 10.1021/acssynbio.9b00171.
3. Zilong Wang#, Shuang Wang#, Zheng Xu#, Mingwei Li, Kuan Chen, Yaqun Zhang, Zhimin Hu, Meng Zhang, Zhiyong Zhang*, Xue Qiao*, Min Ye*.Highly promiscuous flavonoid 3? O ?glycosyltransferase from Scutellaria baicalensis . Org. Lett. 2019, 21, 2241?2245.
4. Xue Qiao#, Qi Wang#, Shuang Wang, Yi Kuang, Kai Li, Wei Song, Min Ye*. A 42-markers pharmacokinetic study reveals interactions of berberine and glycyrrhizic acid in the anti-diabetic Chinese medicine formula Gegen-Qinlian Decoction. Front. Pharmacol. 2018, 9, 622.
5. Junbin He#, Kuan Chen#, Zhi-min Hu, Kai Li, Wei Song, Li-yan Yu, Chung-Hang Leung, Dik-Lung Ma, Xue Qiao*, Min Ye*. UGT73F17, a new glycosyltransferase from Glycyrrhiza uralensis , catalyzes the regiospecific glycosylation of pentacyclic triterpenoids. Chem. Commun. 2018, 54(62), 8594-8597.
6. Wei Song#, Xue Qiao#, Kuan Chen, Ying Wang, Shuai Ji, Jin Feng, Kai Li, Yan Lin, Min Ye*. Biosynthesis-based quantitative analysis of 151 secondary metabolites of licorice to differentiate medicinal Glycyrrhiza species and their hybrids. Anal. Chem. 2017, 89(5), 3146-3153.
7. Kai Li, Jin Feng, Yi Kuang, Wei Song, Meng Zhang, Shuai Ji, Xue Qiao, Min Ye*. Enzymatic synthesis of bufadienolide O -glycosides as potent antitumor agents using a microbial glycosyltransferase. Adv. Synth. Catal. 2017, 359(21), 3765-3772.
8. Xue Qiao, Xiong-hao Lin, Shuai Ji, Zheng-xiang Zhang, Tao Bo, De-an Guo, Min Ye*. Global profiling and novel structure discovery using multiple neutral loss/precursor ion scanning combined with substructure recognition and statistical analysis (MNPSS): Characterization of terpene-conjugated curcuminoids in Curcuma longa as a case study. Anal. Chem. 2016, 88(1), 703-710.
9. Shuai Ji, Ziwei Li, Wei Song, Yongrui Wang, Wenfei Liang, Kai Li, Shunan Tang, Qi Wang, Xue Qiao, Demin Zhou, Siwang Yu*, Min Ye*. Bioactive constituents of Glycyrrhiza uralensis (licorice): Discovery of the effective components of a traditional herbal medicine. J. Nat. Prod . 2016, 79(2), 281-292.
10. Xue Qiao#, Qi Wang#, Wei Song, Yi Qian, Yao Xiao, Rong An, De-an Guo, Min Ye*. A chemical profiling solution for Chinese medicine formulas using comprehensive and loop-based multiple heart-cutting two-dimensional liquid chromatography coupled with quadrupole time-of-flight mass spectrometry. J. Chromatogr. A 2016, 1438, 198-204.