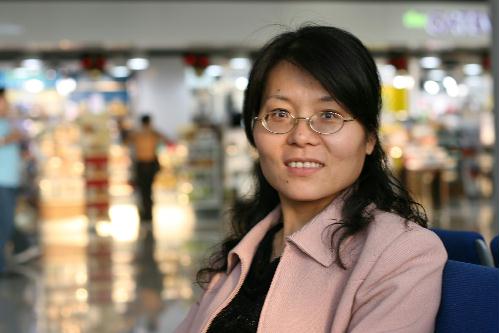 张庆英博士、教授、博士生导师
  研究领域:1. 天然药物活性成分; 2. 中药质量分析与评价
  电话/传真:010-82801725
  联系邮箱:qyzhang@bjmu.edu.cn
  个人简介:
  1991年毕业于山东医科大学,获学士学位
  1994年毕业于山东医科大学,获硕士学位
  1994年至1997年在山东大学任教
  2000年6月在北京大学医学部,获博士学位
  2000年6月毕业后留校工作至今
  2002年3月至2003年3月在日本卫材株式会社筑波研究所,研修
  2012年7月至8月在香港浸会大学中医药学院,研修
  教学工作:
  主要讲授本科生的《天然药物化学》和研究生的《高等天然药物化学》课程。参加编写天然药物化学教材及教辅4部,专著1部。先后获得北京大学医学部优秀班主任、优秀教师、身边的好老师、优秀德育奖以及教学优秀奖等荣誉称号。
科研工作:
  研究兴趣为天然药物活性成分及中药质量分析。先后承担或参与了20多项国家和省部级科研项目,其中作为项目负责人先后承担国家自然科学基金项目4项,国家重大新药创制项目1项、国家重大科技项目子课题2项、工业和信息化部中药材扶持项目子课题1项、药典委员会中药材质量标准子课题3项以及国家中药标准化项目子课题1项等。对轮叶棘豆、镰形棘豆、钩藤、泽泻、柴胡、酸枣仁、红芪、黄芪、凹顶藻属植物等10余种中草药或民族药的活性成分、构效关系及其质量分析等进行了研究,发现了很多自然界首次报道的新颖结构以及多个具有较好抗肿瘤、抗炎、抗病毒、抗菌等活性先导化合物;建立了中药柴胡、泽泻、酸枣仁、红芪等多种中药的指纹图谱和多成分定量方法;完成了天然查耳酮及其衍生物、3-苯亚甲基-2-吲哚酮及其衍生物的合成;完成了似瘤凹顶藻生物碱A,B及其异构体的全合成。在Journal of Natural Products, Phytochemisty, Fitoterapia,Tetrahedron, Tetrahedron Letters, PlantaMedica, Bioorganic & Medicinal Chemistry Letters等国际和国内专业杂志发表研究论文100余篇,其中SCI收载论文50余篇。
代表性论文:
  1. Yang Liu, Xiaojing Zhang, NorboKelsang, GuangzhongTu, Dexin Kong, Jianghai Lu, * Yingtao Zhang, Hong Liang, PengfeiTu, Qingying Zhang*. Structurally Diverse Cytotoxic DimericChalcones from Oxytropischiliophylla, Journal of Natural Products, 2018,http://dx.doi.org/10.1021/acs.jnatprod.7b00736
  2. QiangGuo, Hongshuai Yang, Xinyu Liu, Xiali Si, Hong Liang, PengfeiTu, Qingying Zhang*. New zwitterionicmonoterpeneindole alkaloids from Uncariarhynchophylla , Fitoterapia, 2018.
  3. Jun Wang, Yang Liu, NorboKelsang, KewuZeng, Hong Liang, Qingying Zhang*, PengfeiTu, Rhamnocitrin glycosides from Oxytropischiliophylla , Phytochemistry Letters, 2017, 19: 50-54
  4. Lunyong Shi, Lingyu Li, Jun Wang, Bin Huang, KewuZeng, Hongwei Jin, Qingying Zhang*, YanxingJia*, Total synthesis of natural spiro-trisindole enantiomers similisines A, B and their stereoisomers, Tetrahedron Letter, 2017, 58: 1934-1938.
  5. Yong Zhou, Lingyu Li, HengchunRen, Ridong Qin, Qin Li, PengfeiTu, Guifang Dou, Qingying Zhang*, Hong Liang*, Chemical constituents from the whole plants of Pileacavaleriei Levl subsp. cavaleriei , Fitoterapia, 2017, 119: 100-107.
  6. Yanyan Wang, QiangGuo, Zhongbin Cheng, KewuZeng, Hong Liang, PengfeiTu, Shizhong Chen, Qingying Zhang*, New saikosaponins from the roots of Bupleurumchinense , Phytochemistry Letters, 2017, 21: 183-189.
  7. Meichen Li, Wenshuang Sun, Wei Cheng, Dong Liu, Hong Liang, Qingying Zhang*, Wenhan Lin, Four new minor brominated indole related alkaloids with antibacterial activities from Laurenciasimilis , Bioorganic & Medicinal Chemistry Letters, 2016, 26(15): 3590-3593.
  8. Jingyi Yu, Xueyang Ma, Jun Wang, Hong Liang, Qingying Zhang*, Shizhong Chen, PengfeiTu, Discrimination of AlismatisRhizoma based on chromatographic fingerprint, multiple components quantification and pattern recognition analysis, Journal of Liquid Chromatography & Related Technologies, 2016, 39 (19-20): 861-868.
  9. Juan Zhang, Lanping Ding, Hong Liang, XiaoyuGuo, Qingying Zhang*, Sesquiterpenes from the red alga Laurenciatristicha , Biochemical Systematics and Ecology, 2015, 60: 116-119.
  10. Wenshuang Sun, Shan Su, Rongxiu Zhu, GuangzhongTu, Wei Cheng, Hong Liang, Yuying Zhao, Qingying Zhang*, A pair of unprecedented spiro-trisindole enantiomers fused through a five-member ring from Laurenciasimilis, Tetrahedron Letters, 2013, 54(28): 3617-3620.
  11. Yi Liu, Yuying Zhao, Hubiao Chen, Hong Liang, Qingying Zhang*, Development of high-performance liquid chromatographic fingerprint for quality analysis of Hedysari Radix, Natural Product Research, 2013, 27(15): 1398-1403.
  12. Xiaojing Zhang, Lingyu Li, Shanshan Wang, Que Sheng, Wenzhi Yang, Fengying Zhang, Ningbo Gong, Wei Cheng, Hong Liang, Min Ye, YanxingJia, Qingying Zhang*, Oxyfadichalcones A-C: Three chalcone dimers fused through a cyclobutane ring from Tibetan medicine Oxytropisfalcata Bunge, Tetrahedron, 2013, 69(52): 11074-11079
  13. Shan-Shan Wang, Xiao-Jing Zhang, Sheng Que, Guang-ZhongTu, Dan Wan, Wei Cheng, Hong Liang, Jia Ye, Qing-Ying Zhang*, 3-Hydroxy-3-Methylglutaryl Flavonol Glycosides from Oxytropis falcate , Journal of Natural Products, 2012, 75 (7), 1359–1364
  14. Yong Zhou, Hu-biao Chen, BinWang, Hong Liang, Yu-ying Zhao, Qing-ying Zhang*, Sesquiterpenoid and Phenolic GlucosideGallates from Lagerstroemia balansae ,PlantaMedica, 2011, 77: 1944–1946
  15 Tong-Tong Xu, Xiu-Wei Yang, Bin Wang, Wei Xu, Yu-Ying Zhao, Qing-Ying Zhang*, Metabolism of hibifolin by human intestinal bacteria,PlantaMedica, 2009, 75(5), 483-487.
  16. Chang-hong Huo, Hong Liang, Yu-ying Zhao, Bin Wang, Qing-ying Zhang*, Neolignan glycosides from Symplocos caudate, Phytochemistry, 2008, 69(3), 788-795